My Edmonton Trip
Haiku Poetry and Art
Edmonton, Alberta, Canada Mark Harlan Rich
7/23/2002 - 7/28/2002

---

I: Shaw Conference Center Sky-blue waterfall:
already frozen in time,
ready for winter.

When seen from the south side of the river, the glass reflecting the sky created the effect of a large, frozen waterfall, mirroring the one found inside.
II: Inukshuk next to Shaw Conference Center
Lonely Inukshuk
hearding ancient caribou,
waiting for a friend.
The Inukshuk is an ancient symbol used by native canadians to help in hunting rituals. They are usually piles of stones made to look in the form of a human.
III: Russo-Greek Orthodox Church
With a crooked cross,
golden sunlight reflecting
on the journey's end.
This church can be found to the east of the Shaw Conference Center, getting close to the shady part of town. The Orthodox cross has three cross-bars, a small one on top, a longer one right below, and then a slanted one about two thirds of the way down. The roof looks like gold-leaf paint, which shines when the sun is setting.
---
---
IV: Gateway to Chinatown
The Eastern gateway:
opening to emptyness
and a parking lot.
I found this structure on 97th street, next to the farmer's market. A very ornate entryway, the street it led to did not look very appealing. I was informed by a friend that there were three such gates.
V: Friendship Tower
Listen to friendship:
rin-tin tinabulation
carrying the news.
This bell-tower can be found next to city hall, the single glass pyramid located downtown. rin-tin tinabulation was an allusion to an Edgar Alan Poe poem called Bells.
---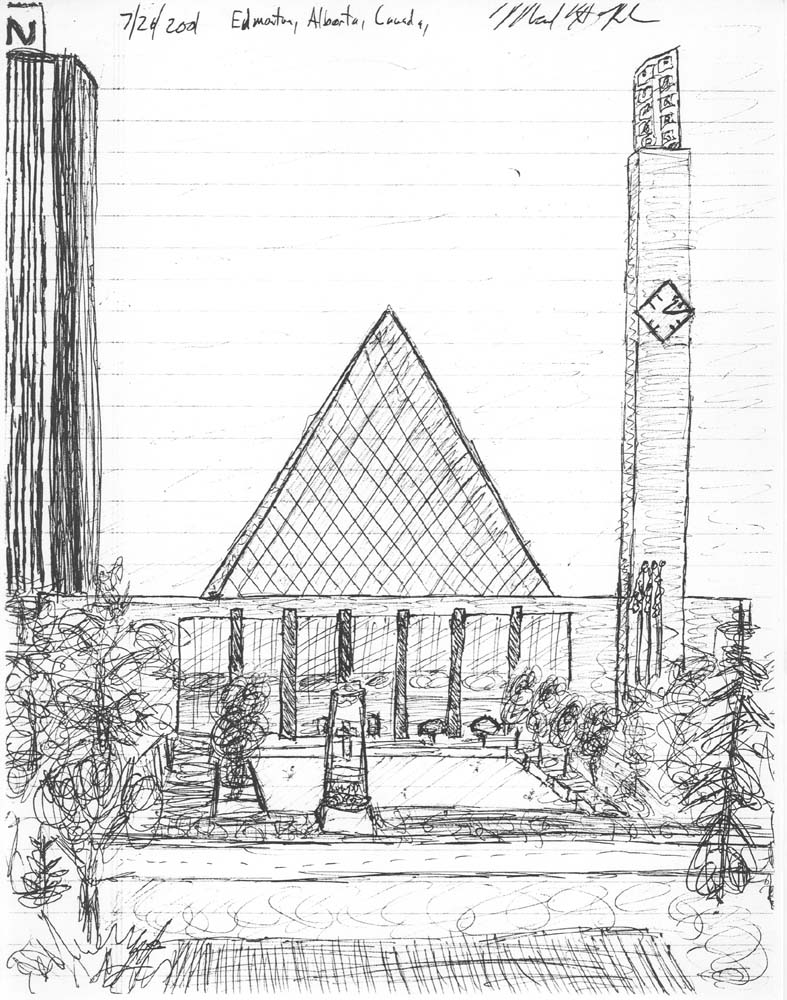 ---
VI: Large Granite Pillar
Granine flower pot?
Elementary, Watson,
the greek is afoot!


I found this large pillar with plants growing on top near the "Sherlock Holmes" pub and "It's all greek to me" greek resturant, a little west of the Westin hotel. I love greek food, I don't know why.
VII: Old Clock at Westin Hotel
Waterless paddle
keeping motion with the stars:
always heading West.
Part of the mechanics of this clock looks like a paddlewheel boat. Time and the sky can be seen as rotating west in the sky, with west also being a reference to it's location, outside the Westin hotel.
VIII: Garden near the Canada building
Canada's shadow
lies long across the garden
like the lunchtime crowd.
With the sunny weather in Edmonton for KDD, many people could be found eating lunch in a garden across from the Shaw conference center and in the shadow of the large red Canada building.
---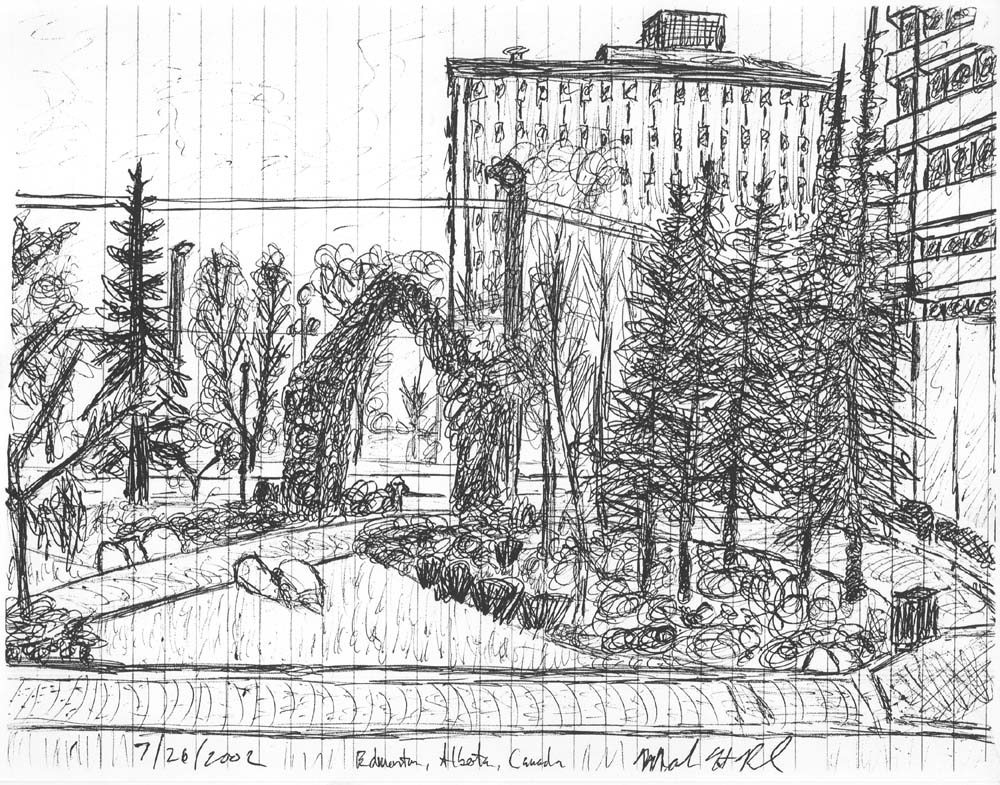 ---
IX: MacDonald Hotel
Old railroad hotel:
classic stone castle with a
side order of fries.
While there, I learned that this hotel, located on the cliffside, used to be owned by a big railroad company, but had since been refurbished and renovated into the MacDonald Hotel.
X: Stairway from river to city level next to MacDonald Hotel
Infinite stairway
climbing up into heaven-
but it feels like hell.
This is a great stairway leading over to the southern side of the river, descending is a piece of cake, but climbing can take a while. This is also the site of my escape from a local villan yelling profanities at me and shoving me. He was a smoker and couldn't climb very well.
---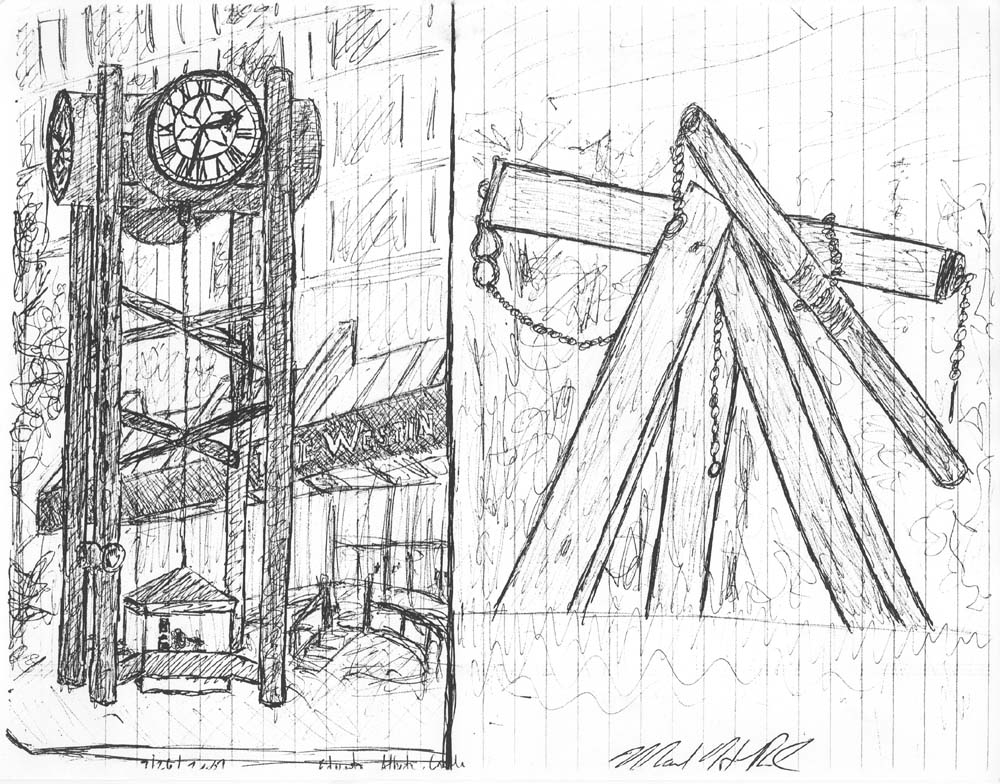 ---
XI: Circular stone park
My secret hideout
across a trapeziod bridge-
perfect for sketching.
This is where I drew the first sketch found in the book, located on the south side of the river, to the west of the bridge. I also saw a local TV reporter taping a story on some local epidemic; never found out what that was about...
XII: Mutart Conservatory
Triangles of light:
Could this be Tutenkamen's
summer bungalo?
These looked bigger out the outside than they were inside; I don't know that King Tut would have fit into these glass pyramids. I guess they like pyramids up there along with Inukshuks. It was here that I picked up a handy book on Haiku poetry.
XIII: Piece of lumber art in Conservatory gardens
Galleon shipwreck:
architect's construction of
ocean reminder.
I passed this on my way to the Conservatory, never could figure out what it was; maybe a broken down swing set?
---